Here's our step by step guide on How to Care for your Phalaenopsis Orchid: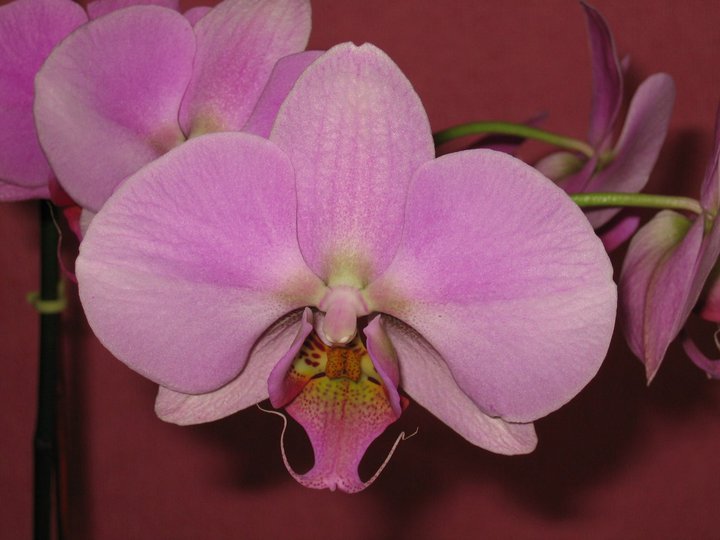 Phalaenopsis (Moth orchids) are probably the easiest orchid to grow in your home and are therefore very popular with beginners. Their flowers are very long lasting.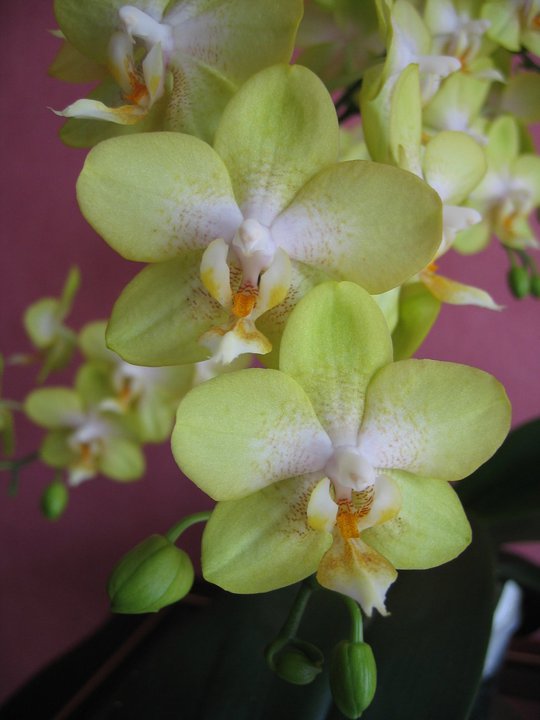 Phalaenopsis orchids come in many colors.With the right treatment you may have more than one flush of flowers on your phalaenopsis.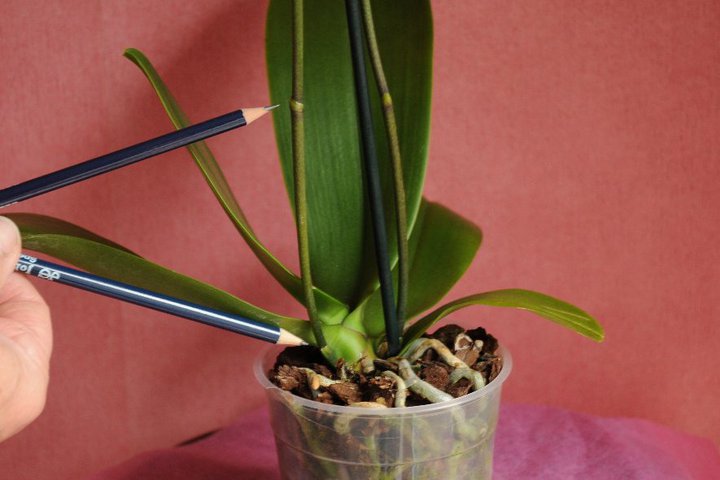 After an orchid has produced a flower from its stem, another one won't appear in the same place again. Therefore, when the flowers fade make a clean cut about 1cm above the second node from the base of the old flower stem to promote the growth of a new shoot for a future new flower.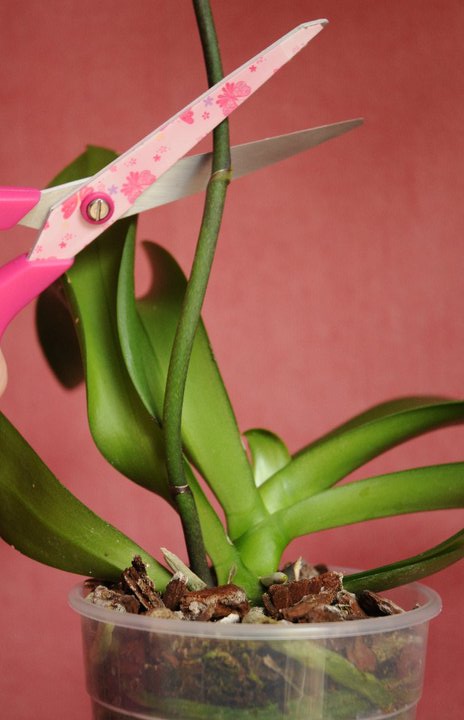 The picture above shows the scissors cutting above the second stem node. However, if you prefer a complete new stem, shooting from the base of the plant, cut as low into the stem as possible without damaging the leaves or roots. A new stem will grow, although this will take longer to develop than the previous method of cutting. The visual effect of cutting the stem as low as possible is more pleasing, and looks more natural (as you don't have the flower stem branching from the old one).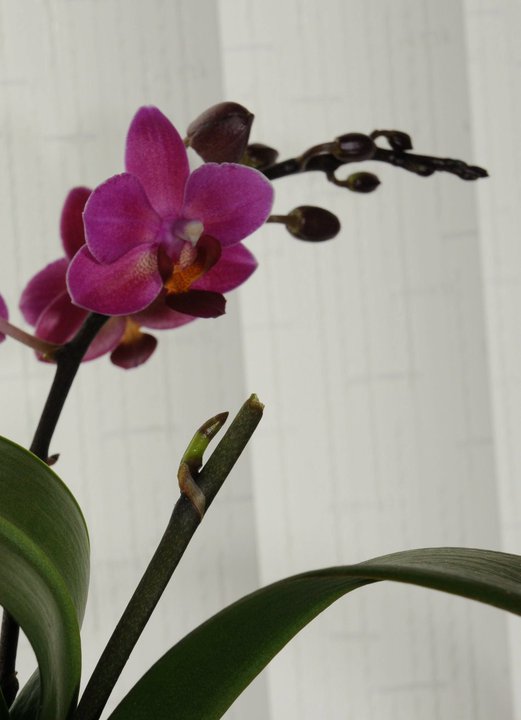 If you chose to cut your stem above the second stem node, a new stem will develop from one of the nodes, producing flowers in around ninety days.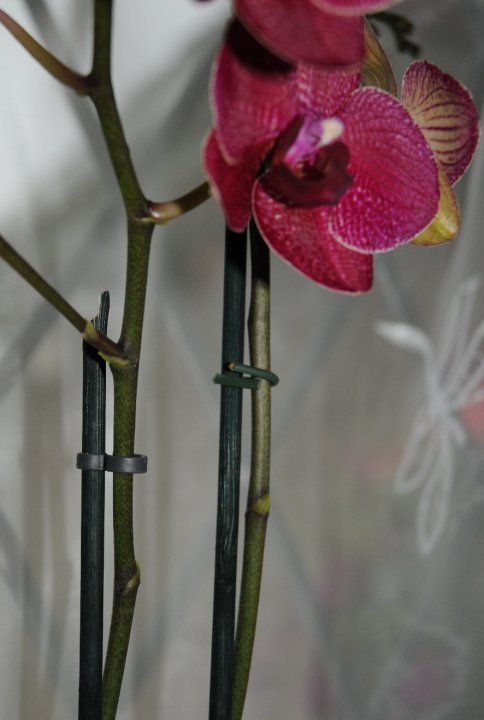 Staking the flowering stem of your phalaenopsis is recommended otherwise it may snap or tip from the weight of the flowers. A thin stake with soft wire or plastic clips is suitable but make sure the clips or wire are not too tight on the stem. Ensure the stem is secured in between node positions (and not at the nodes themselves).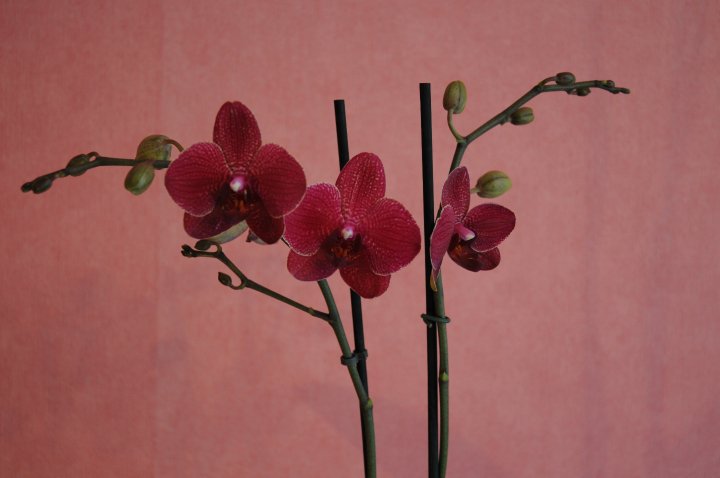 The flowering top of the stem should be allowed to arch slightly. The flower heads will then be in a more natural position. To enhance the visual impact of your blooming flowers, you may wish to clip the top of your stakes so they are not protruding too high.
Phalaenopsis orchids need fresh air but definitely avoid exposing them to draughts. Never stand Phalaenopsis orchids outside, even on a hot day. They require as much light as possible, but not direct sunlight. West and east facing window sills are especially suitable. Strong sunlight can cause scorching of the leaves and flowers, leaving unsightly brown spots on the leaf surface (as visible in the photograph below). Sudden cold and frost can cause problems so move plant away from the glass on frosty nights.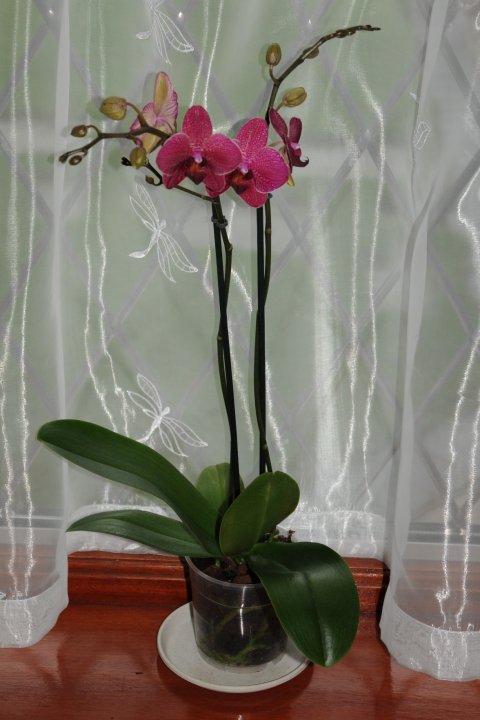 If using a south facing sill, some shading (such as sheer or net curtains), is necessary in summer months.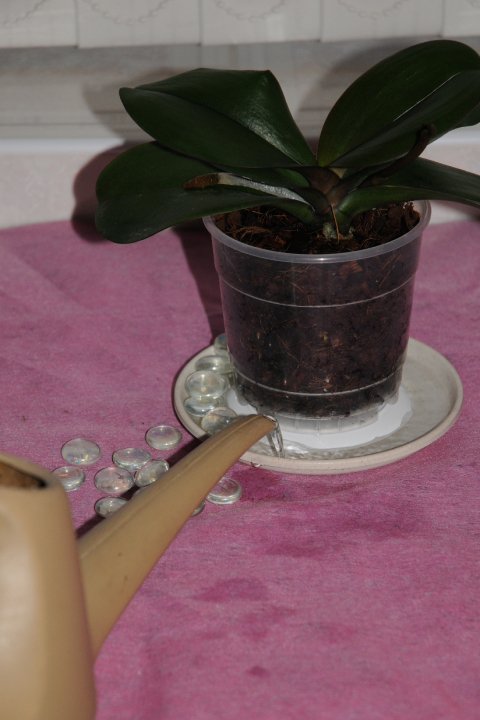 Humidity around the plant is required and can be achieved by standing the orchid pot on an upturned saucer or dish in a shallow tray of water filled with pebbles or similar medium.
Never allow water to come into contact with the bottom of the pot as this will cause the roots to rot. Clear orchid pots are very good as they allow you to inspect the health of your roots and potting medium at all times. It is possible to get solid orchid pots if you prefer. Whichever type of orchid pot you choose, you can always put it inside a nice looking decorative orchid pot.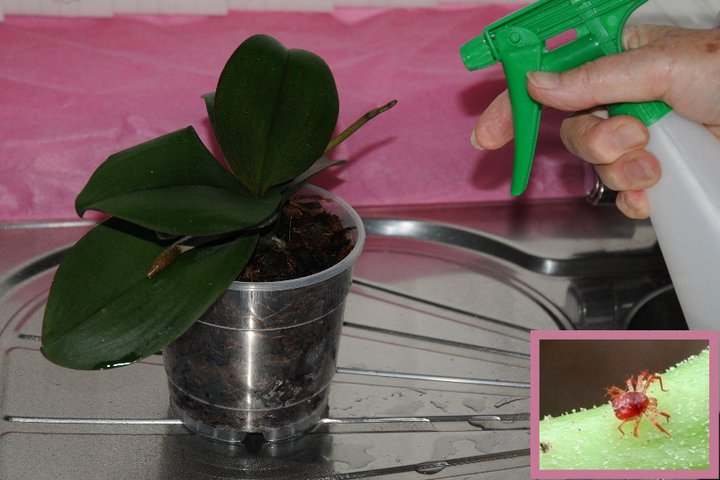 Misting leaves occasionally, using a very fine spray with water at room temperature, is beneficial, but do not over wet them. There is a new popular innovative spray that also fertilizes your orchid which is worth the investment.
Misting also discourages pests that thrive in dry air, such as the red spider mite (see inset photo).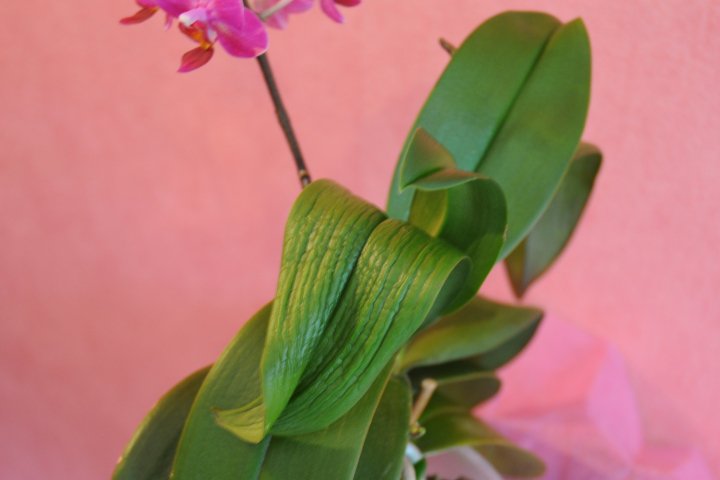 Be careful to avoid over watering. If you do, your leaves will crinkle as shown above. A good Phalaenopsis Potting Mix or a coarse mix will significantly help avoid over watering.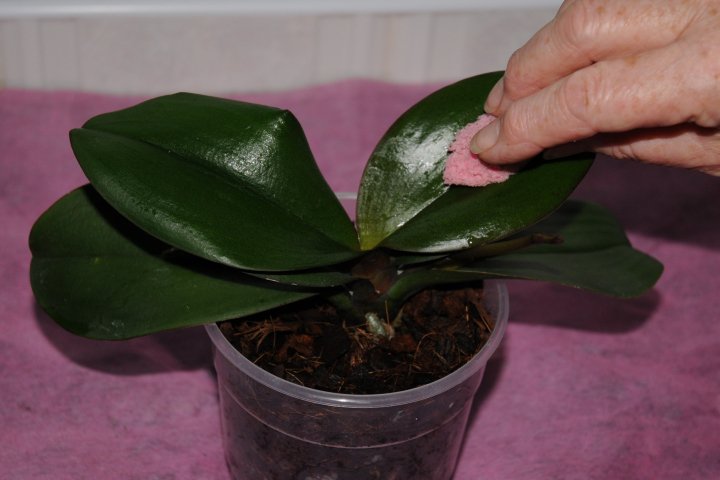 Cleaning foliage with a damp sponge weekly will remove dust and also help to deter pests by removing them and their eggs.
Keeping several plants together, including foliage ones, will create humidity for each other.Avoid moving plants to different sites in your home as they thrive best in a settled position.
The best temperature for phalaenopsis during the day is at least 64F, 18c. In the summer they will thrive with warmer temperatures.
Night time and winter temp. should never fall below 55F. The difference of around 9 degrees F between night and day temperature is needed to stimulate flower growth.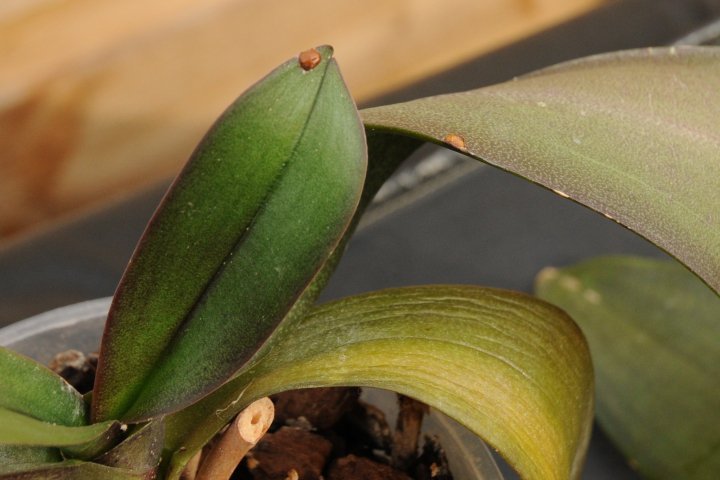 Keep a close eye on the leaves for pests,bugs and mites. The above photo shows a scale insect on the leaf tip.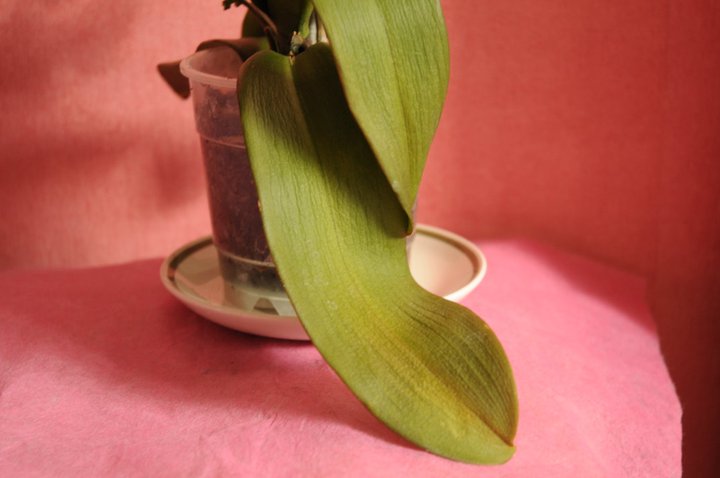 Your orchids love clean air! Exposure to smoke from an open fire, cigars, cigarettes, paint fumes and even old fruit (which exudes ethylene) can cause wilting and bud drop. They also love to be fed, and it is recommended to use a best selling orchid fertilizer.
If you found this Phalaenopsis Moth Orchids Care Guide useful, please click the "Like" button below, and leave us a comment in the box. Thank you!
Read more advice on How to Care For Your Orchids - in particular our Phalaenopsis Orchids Watering and Feeding Guide, and our Phalaenopsis Orchids Repotting Guide.